General Information
For information please contact :
Irish Museum of Modern Art
Royal Hospital
Military Road
Kilmainham
Dublin 8
Ireland
Museum Opening Hours
Tuesday - Saturday : 10.00am-5.30pm
Sunday and Bank Holidays : 12noon-5.30pm
Closed Mondays
Admission Free
Grass Roots Café
Monday - Saturday : 10.00am-5.00pm
Sunday and Bank Holidays : 12noon-5.00pm
Bookshop
Monday - Saturday : 10.00am-5.30pm
Sunday and Bank Holidays : 12noon-5.30pm
Heritage
Guided heritage tours of the North Range are available from 5 June to 9 September. Please contact the museum for details.
A permanent exhibition and video (13 mins), on the heritage of the building and site is available for viewing all year round, during Museum opening hours.
Guided Tours of Exhibitions
Free guided tours available Wednesday, Friday and Sunday : 2.30pm

It is also possible to pre-book a guided tour. These are available in English, Irish and French at the following times: 10.00am, 11.45am, 2.30pm and 4.00pm. To book please telephone : 01 - 612 9900 at least two weeks in advance of your intended visit.
Visitor Facilities and Disability Access
The gallery spaces are wheelchair accessible. Visitors are welcome to avail of our adapted toilets, baby changing facilities and locker room. Wheelchair available on request.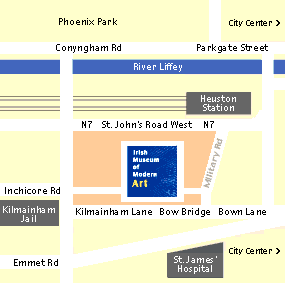 How to get there
Entrance on Military Road, 8 minutes walk from Heuston Train Station. Buses : 68, 68A, 69, 78A, 79, 123 and 90 (Dart Feeder Bus from Connolly and Tara Street Stations to Heuston Station). Unlimited parking on the grounds of the Museum.
The Royal Hospital Kilmainham
The Irish Museum of Modern Art is housed in the Royal Hospital Kilmainham, the finest 17th-century building in Ireland. The Royal Hospital was founded in 1684 by James Butler, Duke of Ormonde and Viceroy to Charles II, as a home for retired soldiers and continued in that use for almost 250 years. The style is based on Les Invalides in Paris with a formal facade and a large elegant courtyard. The Royal Hospital in Chelsea was completed two years later and also contains many similarities in style. The Royal Hospital Kilmainham was restored by the Government in 1984 and opened as the Irish Museum of Modern Art in May 1991. The building has an excellent bookshop and coffee shop and comprehensive banqueting and conference facilities.