Education and Community programme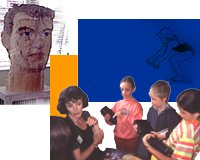 The Education and Community Programme is an integrated part of the Museum's overall structure. The Programme engages with a broad range of publics on many levels from guided tours, seminars and symposia to a variety of workshop programmes exploring artworks and artists' work practice.
All programmes and projects are designed to place participants on an equal footing with artists, creating a forum where artists can meet people and people can meet artists, where meaningful exchange can take place, so that both parties acquire new understandings of issues explored.
This can be experienced through practical workshops, dialogue and exhibitions. Small focus groups have been formed to create learning experiences from which to extract models of good quality arts educational practice within an Irish context. Simultaneously the Museum works at policy level through inter-organisation or agency contact, shared programmes, public debates, symposia and on working parties when appropriate. This creates a series of ever-widening networks, each working through its own means of communication, thus broadening the involvement of the Museum and its activities.
School Programme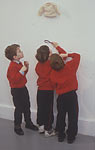 The schools programme engages with primary, second-level and third-level colleges. Guided tours, discussions and visits to the Artists Work Programme are available for pupils and students of all ages. There is an extensive talks and events programme in association with all exhibitions. The Department of Education and Science approved Incareer-Development courses are available for primary school teachers each summer. IMMA also runs a classroom-based project where primary school teachers and their class groups are invited to explore a theme from the exhibition programme.
Community Programme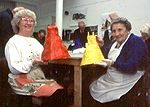 Discussion visits to artists on the AWP and to exhibitions are available for all community groups. Exhibitions are created periodically in association with community organisations e.g. Unspoken Truths and Once is too Much (with women's groups), Signatures (with men's groups) and ...and start to wear purple (with older people). Focus On... is a combined workshop and gallery programme, which is facilitated by artists and is available to all community groups, youth and after-school groups and people with learning and physical disability.
Family Programme
Explorer 1 aims to promote and develop stimulating and engaging experiences for family groups visiting the galleries. Family groups are invited to enjoy a range of stimuli and themed activities every Sunday from 2.00pm - 5.00pm (October/November and between February and the end of July). This project is free of charge and does not require booking.
Visual Arts Practice
The Museum, in association with the National Council for Vocational Awards (NCVA), facilitates the Foundation Certificate in the Visual Arts Practice module. This is an accredited programme which brings groups who are taking the module into contact with artists and exhibitions. Education staff are happy to provide more information and resources in the context of the module.