Being Human : Annie Abrahams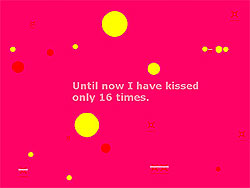 In being human/étant humain Annie Abrahams tackles problems of communication in general and develops a work around the possibilities and limits of exchange using a computer. This tool makes it possible to address people in their own intimacy, not mediated by a context of art. In most of her pieces, the artist addresses the visitor directly.
In the work the spect-actor, by his actions and his participations, reveals himself to himself and contributes at the same time to an outline of the contemporary human state of mind.
"You are alone in front of your computer. Just you. All is you. Can you understand me? I am a computer. I am not you. Please, respect me. Do you want a computer kiss? Some compliments? I don't know what I want. I want tenderness, I am afraid of what I want. Don't touch me. There will always be a confrontation. We will never agree. We need to relax. Let's move happy between interfaces."
Posted by stunned at February 09, 2005 01:17 AM