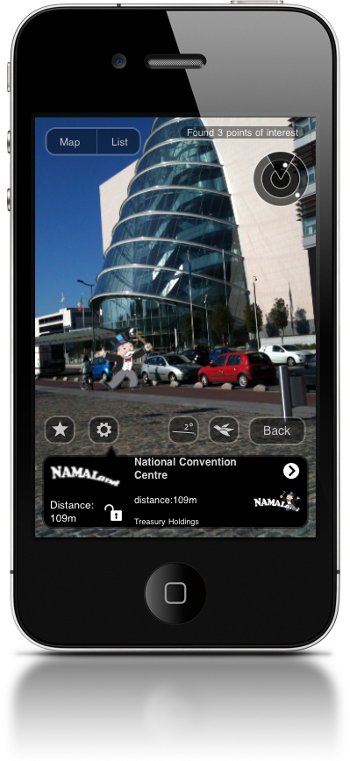 NAMAland is an augmented reality app which lets you see properties in Dublin reportedly owned by NAMA, the National Asset Management Agency.
NAMAland works on the Layar browser for iPhone and Android.
At NAMAland we like to look on the bright side, OK the downside of NAMA is that it's costing you €40 billion, the upside is that you now own some of the best (and worst) properties in Dublin. So grab your phone, put on your tophat and enjoy your new role as a property tycoon with our augmented reality tour of NAMAland.
Remember we-are-where-we-are, there's no point playing the blame game, we were all living beyond our means and it was like that when we got here...
Nama properties data via NAMAwinelake's namabound spreadsheet.
Click here
for more information on the NAMAwine data.
Get Namaland for your phone
NAMAland is available on the Layar Augmented Reality browser for the iPhone and Android.
1. Download the Layar browser by clicking the icons below
2. Open Layar and search for Namaland, you can add Namaland to your Layar favourites by clicking the star icon.
Click here for tips on using NAMAland.