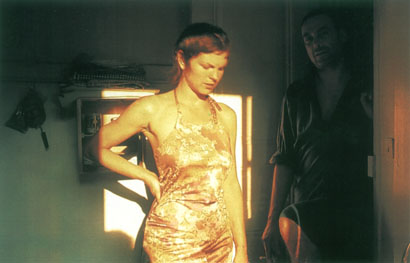 'There is a popular notion, that the photographer is by nature a voyeur, the last one invited to the party. But I'm not crashing; this is my party. This is my family, my history.' Nan Goldin
Internationally recognised as one of America's leading photographers, Nan Goldin's spontaneous and uncut images of her friends and herself capture the essence of the artistic underground of London, New York, Berlin and Paris. In this exhibition of over 300 images and several major new commissions, Goldin records with insight and honesty the glamour and pathos of urban subcultures. Divided into eleven themed sections ranging from drugs to drag-queens, her work uncovers the unrefined truth of human relations, life and death.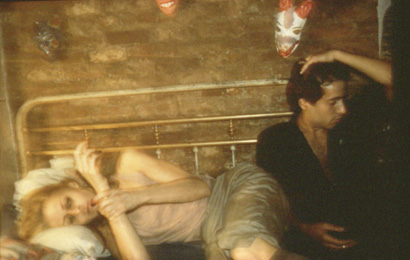 Goldin started her career in the 1960s taking photographs of her friends. Heavily influenced by the shimmer of disappearing elegance in Hollywood movies and European fashion photography, these early black and white snapshots record the transformation from adolescence to adulthood.
Goldin celebrates the life-stories of individuals by returning to them as subjects over several decades. One series charts the life of her friend, underground actress Cookie Mueller, famous for her collaborations with film director John Waters. The series starts with a portrait of Cookie and her son and ends with an image of Cookie in her coffin, her son grieving. In these photographic records no aspect of the human condition is ignored - from couples making love to friends dying of Aids. She captures her subjects' shifting realities and creates testaments to their lives.
Celebrating the exuberance of self-created worlds, the first drag-queen series reveals a period in her life when she flat-shared with two transvestites. Turning her camera on their public on-stage personas as well as more intimate, domestic moments, these images shot in intensely saturated colour, revel in heavy make-up, glittery costumes and glamorous poses. Later works document Gay Pride in New York, as well as visits to Bangkok and Tokyo.
Goldin made her name in the arts world with The Ballad of Sexual Dependency, first shown at the legendary Mudd Club in New York in 1979. Now a cult classic, this 700-image slide-show captures women and men in day-to-day activities - lying in unmade beds, talking on the telephone, staring into mirrors, drinking in clubs, coming home in taxis. Accompanied by music ranging from Brecht to Dean Martin, The Ballad also uncovers a darker reality with disturbing images of battered women, prostitutes and junkies.
The exhibition will premiere in the UK, Goldin's sequel to The Ballad, entitled Heart Beat. John Taverner has composed the soundtrack to accompany this latest work. Currently in construction, Heart Beat will form a meditation on sex and relationships. Björk's intense, pulsating and rhythmic composition will be heard alongside this narrative slide-show depicting intimate and uncompromising shots of couples making love.
Never an outside observer, Goldin's photographs depict her own life, her own social circle - what she sees as her extended family. In All By Myself, a series of self-portraits, Goldin reveals herself, examining with objectivity her relationships, drug addiction and rehabilitation.
The unstructured immediacy and sense of involvement that Nan Goldin creates, as well as her cropped frames and use of light and colour have revolutionised both the style and subject matter of much contemporary photography. Goldin's work creates crossovers between the worlds of fashion, urban subculture and photography; a generation of artists from fashion photographers to film-makers owe much to her legacy.
Nan Goldin was born in Washington DC in 1953 and studied at the School of the Museum of Fine Arts in Boston. She started photographing at 16 and held her first solo exhibition - of early drag queen pictures - aged 19. The Ballad of Sexual Dependency has been shown at the Moderna Museet Stockholm (1984), Berlin Film Festival (1986) and Museum of Modern Art, New York (1991) among many other venues. Solo exhibitions include Fundacio La Caixa, Barcelona (1993), Die Neue National Galerie, Berlin (1994) and Centre d'Art Contemporain, Geneva (1995). In 1996 Goldin held a major retrospective at the Whitney Museum, New York, titled I'll be Your Mirror (touring to The Netherlands, Germany, Switzerland and the Czech Republic). Nan Goldin currently lives and works in Paris and New York. In the past, she has lived in London, Berlin, Bangkok and Tokyo.
The exhibition is produced by the Centre Pompidou, Paris and Reina Sofia, Madrid in collaboration with the Whitechapel Art Gallery and will tour to the Centre Pompidou in Paris, Reina Sofia in Madrid, the Fundacao Serralves in Porto, the Castello di Rivoli in Turin and Ujazdowski Castle in Warsaw.

Images & text courtesy of the Whitechapel Gallery