Ether : AUDC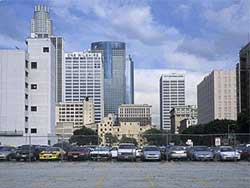 Ether explores the role of the individual, objects, and telecommunicational society from the Cold War to the present day. ...
Begun as a research unit within the Southern California Institute of Architecture Kazys Varnelis and Robert Sumrell Architecture Urbanism Design Collaborative is a nonprofit collective dedicated to using the tools of the architect, the designer, and the historian to research the individual and the community in the contemporary urban environment.
AUDC blurs traditional divisions between media by working simultaneously in print, web, video, photography, drawings, models, dioramas, and installations while addressing the particularities of each medium. Likewise, AUDC breaks down the boundaries between theory and practice by uniting both scholarship and creative work.
"We erect our structures in our imaginations before we erect them in reality."
Karl Marx
Posted by stunned at
02:19 PM