Streaming Media Trail : Judy Malloy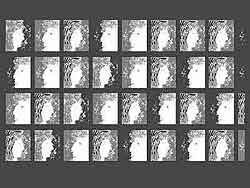 Streaming Media Trail is part One of Revelations of Secret Surveillance, a three part hyper epic about the impact of intelligence agency stalking of artists, writers, and musicians.
Beginning with FBI surveillance of German artists and writers who came to this country to escape the Nazis in the World War II era, Streaming Media Trail uses a combination of fictional juxtapositions and extensive documentation to examine how a climate of Government persecution of the arts has been created. It also brings questions of reality interference into the present by presenting both fictional interpretation and background documentation of the existence and impact of Total Information Awareness and brain fingerprinting technologies.
When I began to write Streaming Media Trail, the first part of this work, I started with the idea of using a fictional approach to examine the climate for artists and the arts in this country that has been created by such Government interference as the House of Un-American Activities role in blacklisting writers and the role of the extreme right in curtailing funding for individual artists.
But as I researched the background, a much more harrowing history of the persecution of creative people and activists unfolded. At every step in the creation of this work, some new revelation changed a shapeless paranoia into a cruel reality that included how the FBI deliberately derailed University of California educator Clark Kerr's career, concrete evidence of FBI persecution of rock musicians, Senate testimony about the CIA role in fostering a drug culture, and the role of British Intelligence in subverting democracy in this country during World War II.
Posted by stunned at
05:11 PM
Disembodied voices : Jody Zellen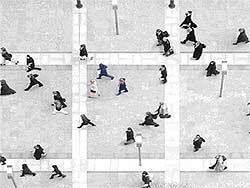 Disembodied voices is a meditation on the nature of public space. It is a visual representation of how different bodies communicate across space, using cell phones as a metaphor for the new translocal of connected, disembodied voices, linked across space invisibly - forming an unseen network of wanderers, always within reach yet nowhere in sight. We now have private conversations in public - and in so doing, these conversations, or at least half of them, become public events, a half-dialogue that no longer knows such a thing as privacy. This site illustrates the collision of the personal/private and public space. As the line between public and private continues to blur intimate transactions have become audible to anyone within earshot. Where we are, in a sense, no longer matters since we are always connected.
Posted by stunned at
09:13 AM
Proteus : Conor McGarrigle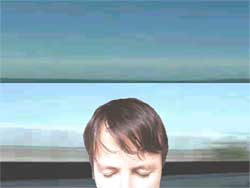 Proteus is the second part of a non-linear episodic narrative work in progress which follows artist Artie Doyle on his travels through Dublin, it is a meditation on place which takes place as our protagonist travels by train to Dublin a journey which takes him past Sandymount strand. For a few minutes on this journey you can see the strand, the sea and the sky then you are plunged once again into the heart of the city. This episode is set against the background of the train's movement as Artie's thoughts in the form of images of place and notebook sketches are made manifest.
The first work in the series is Cyclops.
Posted by stunned at
05:34 PM