THEBIGEAR : Francesco Michi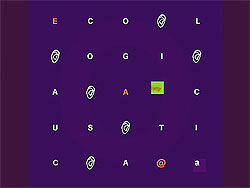 THEBIGEAR Project tries to create an imaginary soundscape, by imagining to have such a powerful ear that it can perceive sounds coming from an endless acoustic horizon.
This happens through the building of a net community, in which everyone writes what he actually hears just when he writes his intervention, sounds coming from the room where he is with his computer, or from his home, or from outside, from the city or the countryside.
Describing the sounds as best as it is possible, it will be easy for THEBIGEAR project staff to imagine them, and also to try to synthesize them in a way that resembles them.
The goal of THEBIGEAR is to build an imaginary (virtual?) soundscape, consisting of sounds that come from all over the world, from different ways of listening and listening locations, as if an unique big ear (with an unlimited acoustic horizon) perceived them. The software which runs THEBIGEAR automatically will insert the incoming contributions into a hypothetical listening day, maintaining the time the listening report was sent.
THEBIGEAR is at the same time a literary and musical operation.
THEBIGEAR produces also an installation named "Inside THEBIGEAR", that consists in a dark listening room where it is possible to hear this global soundscape.
Posted by stunned at
05:13 PM