New Personal Page for Conor McGarrigle
This page is no longer being updated please go instead to www.conormcgarrigle.com for the latest news on my work.
Joyce Walks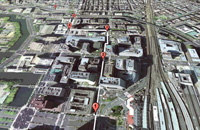 Joyce Walks, 2007, Website.
Joyce Walks is a psychogeographical tool which generates walking maps based on routes from James Joyce's Ulysses in any city in the world using Google Maps. The system prints maps to be used as the basis of walks exploring the city of your choice and generates mashups using pictures and videos documenting these walks to share with other users.
Exhibitions: NCAD MA Graduate Exhibition, NCAD Dublin 2007.
Joyce Walks Tokyo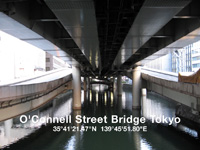 Joyce Walks Tokyo, 2007, Photographs, edition of 5.
Joyce Walks Tokyo is a series of photographs documenting a walk in Tokyo along routes from Ulysses generated by the Joyce Walks website. Each photograph bears the co-ordinates of longitude and latitude of the photograph's location and the name of the corresponding location in Dublin.
Exhibitions: NCAD MA Graduate Exhibition, NCAD Dublin 2007.
Unreliable Narrations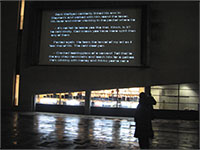 Unreliable Narrations, 2007, DVD.
Unreliable Narrations is a 12 minute video which scrolls the entire first chapter of James Joyces Ulysses in which all the vowels have been censored. The work is a comment on the stifling and damaging effect of copyright and the corporate enforcement of intellectual property on contemporary culture. By censoring the vowels the work circumvents the defacto ban on public displays of Joyce's work enforced by the Joyce estate but in the process removes all meaning from the text transforming it into a puzzle which the public are invited to solve.
Exhibitions: Screenshow, Temple Bar Dublin, EV+A 2007, Limerick.
Google Bono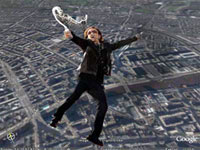 The Bono Probability Positioning System, 2006, website.
The BPPS is a mashup utilising Dublin's extensive surveillance camera network in conjunction with facial recognition software, Google Maps and advanced probabilty techniques to allow visitors to determine the probability of seeing Bono in any of the most probable locations in Dublin's city centre in real time.
Exhibitions: Media Art Friesland, Netherlands. The Reno Interdisciplinary Art festival, Reno USA. FILE, Sao Paulo Brazil. FILE RIO, Rio de Janeiro Brazil. D/Art07 Sydney Australia.
WhereIsMyArt.com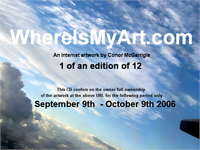 WhereIsMyArt.com, Sept 2006- Sept 2007, Private website, edition of 12.
WhereIsMyArt is a private website sold on CD in an edition of 12 through art vending machines in Dublin. The purchaser gets full ownership of the artwork at the password protected website for a defined period of one calender month after which the password is changed and the ownership transfers. The content of the artwork is known only to the purchaser and may remain constant for the period of the artwork or may change from month to month. The artwork ceases to exist after one year.
Exhibitions: The Vending Machine Project , Dublin Fringefest.
Cyclops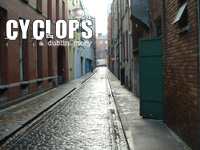 Cyclops, 2005, webite, editioned DVD-ROM.
Based on the corresponding chapter of Ulysses Cyclops forms part of an ongoing narrative series which presents a portrait of a city through the digitally mediated everyday stories of it's inhabitants . Combining elements of live performance, video, photography and captured audio into a digital framework the project follows the virtual journey of artist Artie Doyle on a Joycean narrative through the streets of Dublin.
Exhibitions: Seoul Net Festival, Seoul Korea. Thailand New Media Arts Festival MAF05, Bangkok. 5th Symposium on Art & Multimedia : Metanarrative(s)? Fundacio La Caixa, Barcelona. FILE Sao Paolo Brazil. FILE RIO, Rio de Janeiro Brazil.
Proteus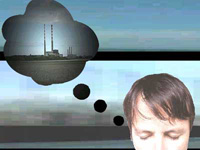 Proteus, 2005, webite.
Proteus is the second part of a non-linear episodic narrative work in progress which follows artist Artie Doyle on his travels through Dublin, it is a meditation on place which takes place as our protagonist travels by train past Sandymount strand the location of the Proteus chapter in Joyce's Ulysses.
Exhibitions: 5th Symposium on Art & Multimedia : Metanarrative(s)? Fundacio La Caixa, Barcelona.
Haunted
Haunted, 2003, website.
The Haunted Blog was commissioned by the Civil Arts Enquiry as part of the final event of the City Arts Centre Dublin Moss St. building September - October 2003. Prior to and throughout the exhibition I blogged a series of short pieces created as a response to exploring the building and it's archives.
Exhibitons : Haunted 2003, City Arts Centre. Commissioned by The Civil Arts Enquiry.
Temporarily offline while the City arts Centre redesign their website
IrishMuseumofModernArt.com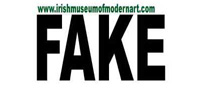 IrishMuseumofModernArt.com, 2001-2003, website.
A re-imagining of the web presence of the Irish Museum of Modern Art at www.irishmuseumofmodernart.com. A two year collaboration with Arthur X. Doyle now archived on Stunned.
TEMPLE-BAR.org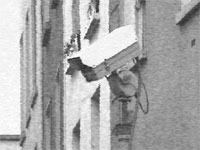 Temple-Bar.org, 2001, Website.
Commissioned by the Project Arts Centre in 2001 for the
We're not really Here
exhibition I purchased the domain name www.temple-bar.org and for the duration of the show created and published online a series of short pieces on the theme of
Temple Bar, Dublin's cultural quarter
. Each piece was published as is with no explanation text at this domain name. The project was supported by a Google adwords advertising campaign where the alternative Temple Bar website purchased several Temple Bar related keywords and competed with the 'real' Temple-Bar site in Google rankings.
Exhibitions: We're Not Really Here, Project Dublin. Commissioned by The Project
SPOOK...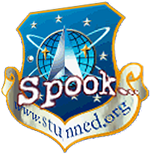 Spook..., 2000, website, editioned CD-ROM.
Spook... is a distributed web based artwork which explores issues of surveillance, tracking and covert military activity on the web in an interactive website based on the conventions of computer games. Spook... was a live ongoing project between 2000 and 2002, this active stage is now over but the project is still online.
Exhibitions : SIGGRAPH 2000, New Orleans. Art on the Net, Tokyo. Werkleitz Biennale, Germany. CyNetArt 2000, Dresden Germany. Intermedia, Cork. Darklight Film festival, Dublin. Net-Z-Lab Internet Kunst Preis 2001, Chemnitz Germany. d>art00, Sydney Australia. X-00 Art Festival, Lorient France. Marks of Omission, Arthouse Dublin. Fundacio La Caixa, Barcelona.
PLAY-lets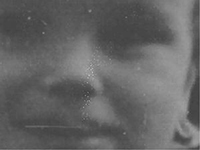 Play-lets, 1999,website, Editioned CD-ROM
PLAY-lets deals with childhood and the nature of memory mediated through the theories of August Klein and the art of Arthur X. Doyle.
Exhibitons : SIGGRAPH 1999, Los Angeles.